Back Pain Solutions in Middletown
Non-Surgical, No Drug, Back Pain Relief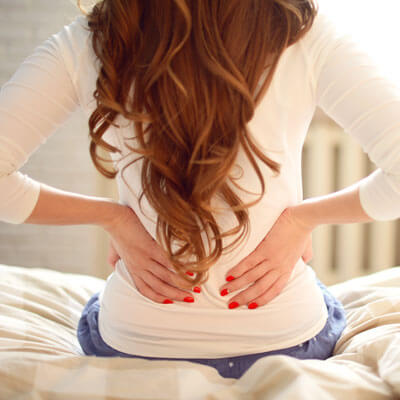 Do you have back pain that just won't go away? Are you finding it difficult to go through your normal activities of the day without feeling the nagging or stabbing reminder of back pain limitations? Can you imagine a more active life with the ability to exercise, play with the kids, go dancing or even simply sit and read a book without back pain stopping you in your tracks? The good news is that the answer to your back troubles may be right around the corner!
A revolutionary approach to back pain recovery is now available in Middletown. Dr. Logullo is a National Board Certified Chiropractor and Sports Medicine Specialist with over seventeen years experience helping with the most troubled backs. We have a history of successful recoveries even when medications, physical therapy, injections or surgery have failed to help.
Come in for a Consultation
We offer a complimentary consultation with Dr. Logullo. The consultation is a very important starting point to help find the cause and the answers to your back problems. Dr. Logullo will take the time to listen, REALLY LISTEN, to your individual history. He will ask important questions to help better understand the nature of your injury. This gives great clues on how to properly address your specific problem.
There are many different causes to back pain that are too numerous to list here. Some of the more common problems in back pain sufferers include: disc herniations, nerve pressure/irritation, arthritis, spinal stenosis, muscle strains, postural faults, core muscle weakness and improper joint mechanics. We have had great success helping people with these and many other types of problems.
After the consultation, the next important step is a thorough neurokinetic chain assessment to evaluate the back and structures that influence back function. Nerve, joint and muscle function from the spine, hip, knee, ankle and foot are all assessed. We often see problems with areas that are distant from the site of back pain. By addressing the related biomechanics and neurological issues, the best outcomes are achieved.
One of the keys to success is an individualized and specific treatment plan based off of the information from your consultation and evaluation. Dr. Logullo uses a combination of some of the most advanced and scientific treatment strategies available in the country. In a report of findings, the doctor will discuss his findings and recommendations. He will take the time to answer any of your questions or concerns prior to treatment.
Schedule a consultation with Dr. Mark Logullo at Logullo Chiropractic to discuss your back pain privately. Discover if Dr. Logullo's back pain recovery approach is right for you.
Here is What to Do:
To schedule your private in-office consultation with Dr. Logullo simply complete the Appointment Request below.
Call Us at (302) 378-5441 to make or confirm your appointment.
Appointment Request
---
Back Pain Solutions Middletown DE | (302) 378-5441