Neck Pain Solutions in Middletown
Non-Surgical, No Drug, Neck Pain Relief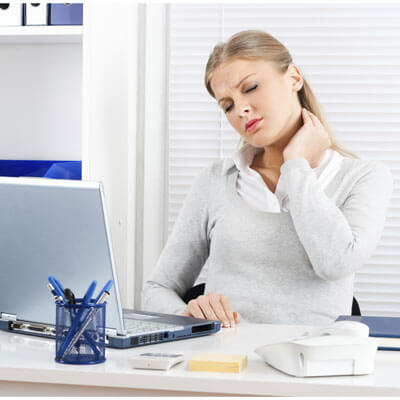 Imagine balancing a 12 lb. (5.5 kg.) bowling ball on the tips of your fingers.
All day long.
That's just one of many things your neck must do. Your neck and shoulders work hard. Even the smallest deviation in the relationships of the seven bones of your cervical spine (neck) can cause pain and reduced head and neck mobility.
Minor and Major
Generally, we see two types of neck pain cases. Minor neck and shoulder pain involve sensations of discomfort, stiffness or soreness. If these symptoms last for more than a day or so, occur frequently or were preceded by an accident, or some type of injury, we consider it major.  Major neck pain causes may also be accompanied by pain or numbness that radiates into the head, shoulders, arm or hand.
Expert Care for Both Minor and Major Neck Pain
Dr. Logullo is an expert in cervical spine care with over seventeen years experience helping neck pain sufferers. The first step is to find the cause with a thorough neurokinetic chain assessment to evaluate the neck and structures that influence neck function. Nerve, joint and muscle function from the spine, shoulder, elbow, wrist and hand are all assessed. We often see problems with areas that are distant from the site of neck pain. By addressing the related biomechanics and neurological issues, the best outcomes are achieved.   Dr. Logullo uses a combination of the most advanced and scientific treatment strategies available in the country. 
Free No-Obligation Consultation
We see this sort of thing all the time. It's almost routine. Chiropractic care has a history of producing excellent results with those suffering from neck pain. And we do it naturally, without drugs or surgery.
At Logullo Chiropractic we specialize in reducing interference to the nervous system in the neck. Many of our patients find that chiropractic care gives them relief from both minor and major neck and shoulder complaints.
Call or email us with your question. Schedule a no-obligation consultation and find out if you're a good candidate for today's safe and natural chiropractic care.
Schedule a consultation with Dr. Mark Logullo at Logullo Chiropractic to discuss your neck pain privately. Discover if Dr. Logullo's neck pain recovery approach is right for you.
Here is What to Do:
To schedule your private in-office consultation with Dr. Logullo simply complete the Appointment Request below.
Call Us at (302) 378-5441 to schedule your neck pain recovery examination.
Appointment Request
---
Neck Pain Solutions Middletown DE | (302) 378-5441