Expert Care For Work Injuries in Middletown Delaware

Dr. Logullo is an expert in Spinal Biomechanics and Injury Rehabilitation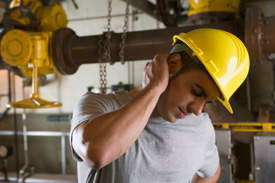 You deserve a doctor with years of experience and success in helping injured workers get well and back to the life they enjoy. For over seventeen years, Dr. Logullo has treated thousands of injuries. He is National Board Certified and is a Certified worker's compensation provider for the State of Delaware. We know how to co-ordinate with insurance companies, other doctors and lawyers to make your life easier. We handle the paper work so you can focus on healing.
If you have been injured at work you should notify your employer immediately and then call our office to schedule your appointment.
We Can Help
The good news is that most Delaware work place injuries are covered 100% by Worker's Compensation Insurance. The bad news is that there is a time limit on your chance to file to get the benefits you deserve.
No Referral Needed
All you need to do is notify your employer of the injury and call our office (302) 378-5441. We have same day or next day appointments available for injured workers.
With a commitment to excellence, our office consistently delivers the help that you are looking for:
1. A doctor with years of experience and success in helping with both mild and the most serious injuries.
2. Enjoy the convenience of a great location and a "no-wait" policy in which we see our patients within a few minutes of their scheduled time. We value your time, it is as important as ours.
3. Gentle, safe and effective care with the accuracy of on-site x-ray directed by a National Board Certified Chiropractic Physician. Dr. Logullo can order and interpret advanced diagnostic testing including MRI, CAT scan and EMG if they are necessary.
We offer all new patients a NO OBLIGATION, FREE CONSULTATION. This gives us a chance to get more information about your specific problem and answer any questions you might have about our office. With your consent, we can then proceed with a thorough evaluation to find the root cause of your problem.
Dr. Mark Logullo will work with you personally. It is easy to become a patient. No referral is necessary. To schedule your appointment, simply click on the New Patient Free Consultation Tab above or call (302) 378-5441.
---
Work Injuries | (302) 378-5441